Free Bonus credits are available multiple times each day!
You can collect a Daily Bonus, which is available once per day. Simply tap the COLLECT icon and then SPIN NOW to see how much you've won.
In addition to the Daily Bonus, you can collect even more credits multiple times a day. Tap this icon to automatically collect them.

Please note the image above is for example purposes only. Actual values may vary.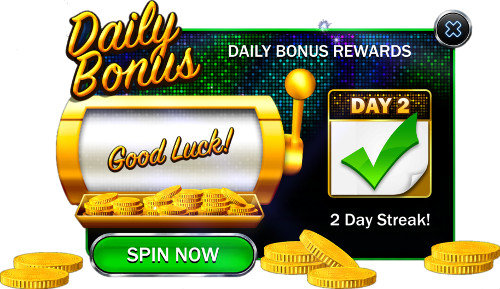 Every day you collect your Daily Bonus, you advance towards an even bigger reward. When you achieve a 5-day streak, you'll unlock daily Mystery Multipliers! Continue to log in daily, and every Daily Bonus you collect will receive an additional multiplier on top, earning you even more credits! If you miss a day, your streak will reset to day 1 and you'll need to build back up to day 5 to earn Mystery Multipliers again.

Once you have collected your bonuses, a countdown will appear for each of your upcoming bonuses.
| | | |
| --- | --- | --- |
| | | The Bonus icon will also change to a timer, until the next Timed Bonus is ready. |

As you level up in DoubleDown Classic Slots, your Timed Bonus credits will increase. Keep playing to level up and get higher bonuses!